Pro Decompression Belt
Regular price
$169.99
Sale price
$89.76
/
---
Imagine

 

NEVER saying "my back's killing me" again!
#1 Back Pain Relief Solution. Recommended by Chiropractors and Orthopedicians Worldwide! 
The Decompression Belt targets pain at the source. Decompressing your spine and RELIEVING the pressure. 
Less pressure means less pain
Our medical-grade quality belt has changed the lives of thousands who were suffering in extreme pain with
✅Spinal Stenosis
✅Degenerative Discs
✅Herniated/Slipped Discs
✅Bulging Discs
✅Sciatica
✅Scoliosis
✅Pinched Nerves
✅Postpartum Back Pains
It can help relieve your pain too!
Spinal decompression therapy can cost up to $6000.
The Decompression belt lasts a lifetime. For less than $100 you can uplift your spine and be pain-free again

Try it out today!
What

Are The Benefits?
1. Decompresses your lower back (lumbar) and instantly relieves pain 

2. Proven recovery in just days of use
3. Straightens the spine making you stand taller, feel better and improves your posture
4. Stretches and disperses lower back tension ending any soreness and stiffness.

5. Rehabilitates spinal conditions such as spinal stenosis, herniated or bulging discs, scoliosis, and sciatica.
 
How

 Do I Use It?
Place a decompression belt around your midsection. The lower part of the belt should sit just above the upper part of your pelvic area.


Fasten the two ends of the belt together using the velcro


Turn the air valve clockwise, then attach the air pump to the valve


Continue to inflate the belt until it is fully inflated. When fully inflated, remove the nozzle from the belt


When you have finished using the belt, turn the air valve in a counter-clockwise direction to deflate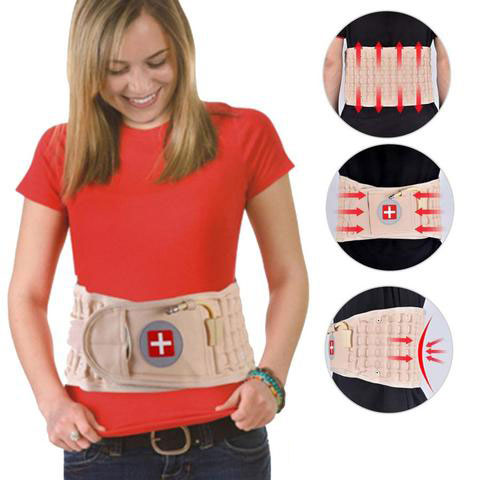 Q: Can both men and women use it? 

A: Yes! It's designed to fit around male and female bodies.

Q: How long should I wear it?
A: You should use the belt daily for a minimum of 30 minutes per day.
If you start to feel any discomfort then take a short break from use. Most people feel instant relief from pain. The best results are seen with 2-4 hours of continuous use per day

Q: Will it fit?
A: Yes it has no problem fitting most people. It ranges from 29 inches (75cm) to 55 inches (140 cm). For larger sizes, we also include an additional extension strap free with every order 
Q: Can I wear it under my clothes? Will anyone notice?
A: Yes! It is designed to be sleek and will fit under your clothing. However, for better comfort, it is advised to wear it over your clothing.
Q: How long will the shipping take?
A:  7-21 business days depending on your location. All of our orders are sent via tracked shipping so you can track your order in real-time.
What

Will Come With My Order?
Package Includes:
✅1 x Belt
✅1 x Air Pump
✅1 x Extension Strap
✅1 x User Guide
Please Note - Due to an increase in social media attention stock is running extremely low. This Sale price will end very soon
Try Out Pro Decompression Belt - Full 30 DAYS MONEY BACK GUARANTEE 
Try out the Pro Decompression Belt for 30 days.  If you're not 100% satisfied then just let us know and we'll give you all your money back no questions asked! 
1. Return Policy:
100% Money-back guaranteed: love your items, or return them for a full refund.
Free and easy returns (so there's no risk in buying)
Don't like something you bought? Tell us about it, and we'll be happy to issue a full refund.
Learn more details, please visit our "Return Policy".
2. Delivery:
Free worldwide shipping on nearly all orders.
Our secret: we ship directly from the top factories on the planet, so you don't pay any middlemen (i.e., distributors or retailers) any additional markups, and pass the savings on to you.
The downside: you have to wait longer for shipping (usually between 12-25 days). The upside: incredible savings, and incredible, quality-assured items backed by our famous 100% money-back guarantee.
Learn more details, please visit our "Delivery Methods".
If that sounds amazing to you, you're not alone. Our quick growth has been incredibly exciting, and we're so grateful to each and every one of you!